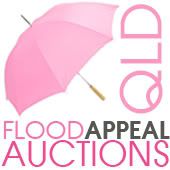 Queensland Flood Appeal Auction
As I'm sure you are aware that many bloggers are holding Auctions to raise money for the people in our devastated state of Queensland.
All of the money raised at these auctions will go directly to the Queensland Government Flood Relief Appeal.
You can read about the flood here Brisbane Flood
The stories of loss and also courage have ripped our hearts out.

Thank you for coordinating the auctions Toni from Make it Perfect
Autumion
It is one of my hand dyed sunprinted designs. The piece is free motion quilted.
Size43cm x43cm ( 17" x17 " )

How this auction works:
1. Bidding will start at $40(Australian).
2. You can place a bid by leaving a comment on this blog post with your bid amount and email address. Please make sure that your bid is higher than the previous bidder.
3. Your bid must be in whole dollar increments.
4. This auction is open to everyone, Postage is FREE for All.
5. The auction begins NOW and will END at midnight on Monday 24th January 2011 (Brisbane time).
6. At the close of the auction, I will contact the winner (please make sure your bid comment includes your email address). The winner will pay the winning amount directly into the Premier's Flood Relief Appeal and send me proof of payment via email. Once proof of payment has been received, I will post your quilt to you.
7. Thank you for participating and happy bidding!

Please share this auction with as many people as you can.
Thank you Delia